Teachers
Ms. Chiemi
"I enjoy spending time with children. They are all special and I am honored to take part in their precious childhood development."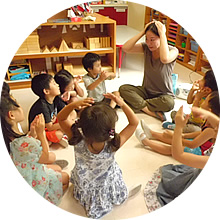 Ms. Chiemi graduated from college in California with a degree in Early Childhood Education. While attending college, she worked at the Child Development Center for a school accredited by the NAEYC (National Association for the Education of Young Children). After moving back to Japan, she has spent her time working with children at International Schools.
Ms. Christina
"I love seeing children grow and progress through the year. The growth and wonder for knowledge is what I love about teaching."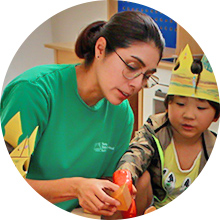 Ms. Christina comes to us from the United States. She earned her undergraduate degree in Education from Millersville University of Pennsylvania. She is currently working on her Master's in Education. Before coming to Tokyo, she taught in Okayama Elementary schools and Kindergartens.
Ms. Fumi
"Working with young children is absolutely my passion! They are full of potential. I am always amazed by how much they can learn and how much they can teach us every day. I enjoy creating lessons and an environment that can nurture and maximize each child's uniqueness, potential, and compassion to the world around them. I believe that children learn the most when they are having fun."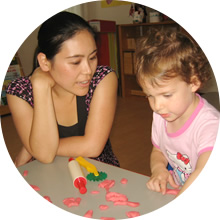 Ms. Fumi graduated from Point Loma Nazarene University in CA with a degree in Child Development. She worked as a preschool and kindergarten teacher for seven years in San Diego prior to joining Seta!
Ms. Michelle
"I became a teacher because of Maria Montessori. Her philosophy in educating children helped form my own teaching style and learning principles. It has immensely influenced the way I relate with kids on and off campus."
Ms. Michelle earned a Master's degree in Education from the Philippines. She has taught in Kindergarten, Elementary, and Junior High School levels.